June 4th - June 10th, 2023
Add yourself to our Interest List 2023 to receive 1st access to the PWR! Retreat.
Join Us for Exercise, Education,
Enrichment and Empowerment
7 day/6 night Parkinson disease-specific exercise retreat
Activities for people with Parkinson's and their care partners
Q&A with physicians and researchers who specialize in PD
Personal attention from Dr. Becky Farley and her PWR! Team
Set against the lovely back drop of Scottsdale Resort at McCormick Ranch
 The PWR!Retreat is a weeklong (7 day/6 night) exercise-focused Parkinson disease-specific retreat and conference for people with Parkinson's and their care partners.  The PWR!Retreat will be held at the beautiful Scottsdale Resort in Phoenix, Arizona. Experience a FUN, engaging way to learn all about, and put into practice, the latest research in exercise and PD – HOW to exercise, WHY you should exercise and the EFFECT exercise has on PD symptoms.
Dr. Becky Farley will be leading this week-long Parkinson Exercise Revolution personally along with her PWR!Team. In this remarkable exercise retreat, attendees will meet with therapists and physicians, as well as health and fitness professionals, all of whom understand exercise as it relates to Parkinson disease. There is also an entire track just for care partners offering detailed care partner education, support, empowerment and advocacy. We have added the opportunity for care partners to experience the exercise classes to improve their understanding and allow improved support during and after the PWR!Retreat.
Retreat Interest Form for 2023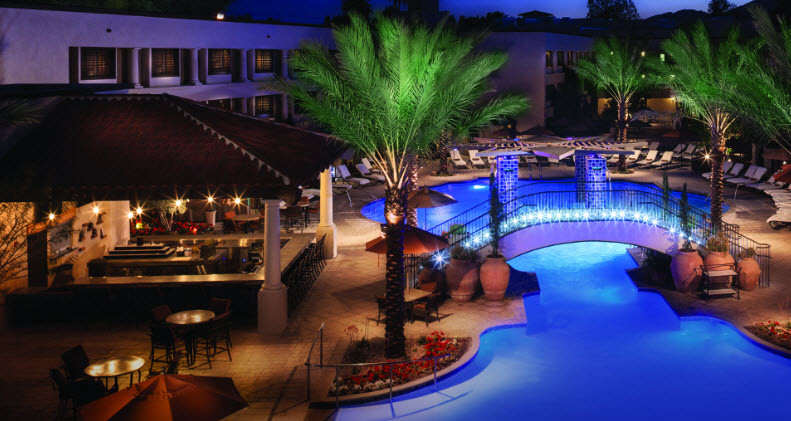 Attendees will experience 3 FULL hours of daily PD-specific research-based group exercise sessions every day. Everyone starts the day with pole walking (partners included), then after breakfast, individuals with PD attend 2 of the following novel PWR! exercise classes*.
During the morning PWR! exercise classes partners have an opportunity to participate in their own discussions and exercise programming.
The day will continue through The Scottsdale Resort rotating through various activities. Join everything from group discussions and lectures, PWR! exercise classes, Qi Gong, Yoga, Care Partner Discussions, and more.
Every year the PWR! Retreat staff chooses lecturers that represent the current findings in Parkinson's.  Looking for engaging and impactful information to assist everyone with a connection to Parkinson's.
All PWR!Retreat participants will have the opportunity to take part in several breakout exercise sessions, such as Yoga, Dance, Tai Chi,  as well as discuss PWR! Boosts.
Hands •  Eyes  •  Breathing  •  Voice
How to incorporate them into your
daily exercise routine!
The PWR! Retreat neuro-fitness classes are designed to target PD-specific skills shown by research to interfere with everyday function and mobility (anti-gravity extension, weight shifting, axial mobility, transitional movements). The instructors are Certified PWR! Therapists and Fitness instructors that specialize in creating "learning" environments that are safe, yet physically and cognitively challenging, and that empower participants with reward-based feedback and meaningful, FUN, social interactions. This type of focus on progressive aerobic training and PD-specific skill acquisition is necessary to optimize brain health and repair function.
PWR!Moves®
PWR! UP/ROCK/TWIST/STEP – Learn the building blocks of bigger and faster FUNction!
PWR! Circuit
Integrating sports and traditional gym activities with a PD-specific twist.
PWR! Nexus
Using larger amplitude movement, louder voices AND faster minds together at the same time.