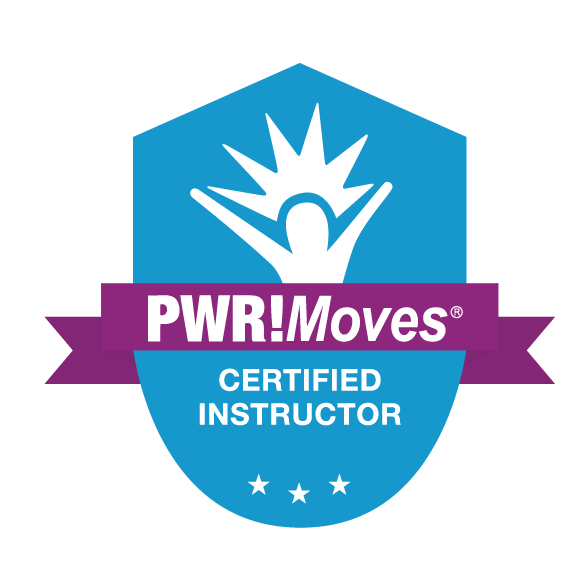 Upcoming PWR!Moves Instructor
Certification Workshops
The PWR!Moves Instructor Certification Workshop has been recognized as a Parkinson's Foundation Accredited Exercise Education Program.
Learn More Here
Eligible Participants
NCCA recognized eligibility criteria:
Certified Personal Trainers and Group Fitness or Group Exercise Instructors and Exercise
Specialists with a current certification recognized by NCCA.
Non-NCCA recognized eligibility criteria:
Physical Therapists, Physical Therapist Assistants,
Occupational Therapists, and Occupational Therapist Assistants
with current state licensure or certification.
Athletic trainer's (ATC), Kinesiotherapists (RKT), and Recreation therapists (CTRS)
with current certification or registration.
Yoga teachers are required to have completed
at least a 200-hour yoga teacher training program.
Pilates instructors are required to have completed
at least a 450-hour Pilates teacher training program.
Registration Fees - USD
$550 per person
$525 per person for groups of 2+
For information about other discounts, please email workshops@pwr4life.org
In order to register, you will be asked to agree to the below following policies. Please read them before registering.
$25 Early Bird Discount
Register more than 60 days before your workshop and receive $25 off! Use coupon code EARLYBIRD25 when registering.
We have added more research, more tools, and more class templates to the course.
We've expanded the course
The PWR!Moves Certified Workshops has been expanded to a pre-work virtual pre-recorded lecture and a 2-day workshop that is full of interactive practicum, exercises, Q&A, and case studies. We cannot wait to certify you!
Aligned with the Recommendations
This course has been built to align with the Parkinson's Foundation exercise recommendations. These recommendations were created to ensure that people with Parkinson's are receiving the safe and effective exercise programs and instruction they need to optimize the benefit. You can read more about these recommendations here.
We are actively working to secure the following CEUs for attendees of this workshop.
ACE, ACSM, AFAA, NASM, NCSF, and NSCA
October 7-8, 2023
11 am Eastern start time
Virtual Workshop via Zoom
Link to be sent upon registration
Please note:
Because this is a virtual workshop in order to be valid for CEUs there are a unique set of requirements to ensure we are accredited and you receive your CEU credits. Please read more about those in our policies below.
Policies:
Please read our Live Virtual Workshop Policies before registering and our Cancellation Policy.
Registration Deadline is: October 2, 2023
Early Bird Coupon Expiration: August 8, 2023