February 16, 2017 4:00-5:30 PM
Neurogenic Orthostatic Hypotension, nOH
Join us to hear Sarah Jones, MPA MS, Executive Director, Parkinson & Movement Disorder Alliance discuss hypotension in PD and answer questions you might have.
Do you think you know much about nOH? You may not know how it relates to your Parkinson's and mistreatment or lack of treatment can be dangerous. Common in mid- and late-stage PD, low blood http://www.mindanews.com/buy-inderal/ pressure (orthostatic hypotension or OH) can cause loss of balance, fainting or falling. It can cause headaches and difficulty thinking-or no symptoms at all! Both PD and the medications used to treat it can cause this condition. It's important that we understand what it is and how to keep it from negatively affecting our quality of life.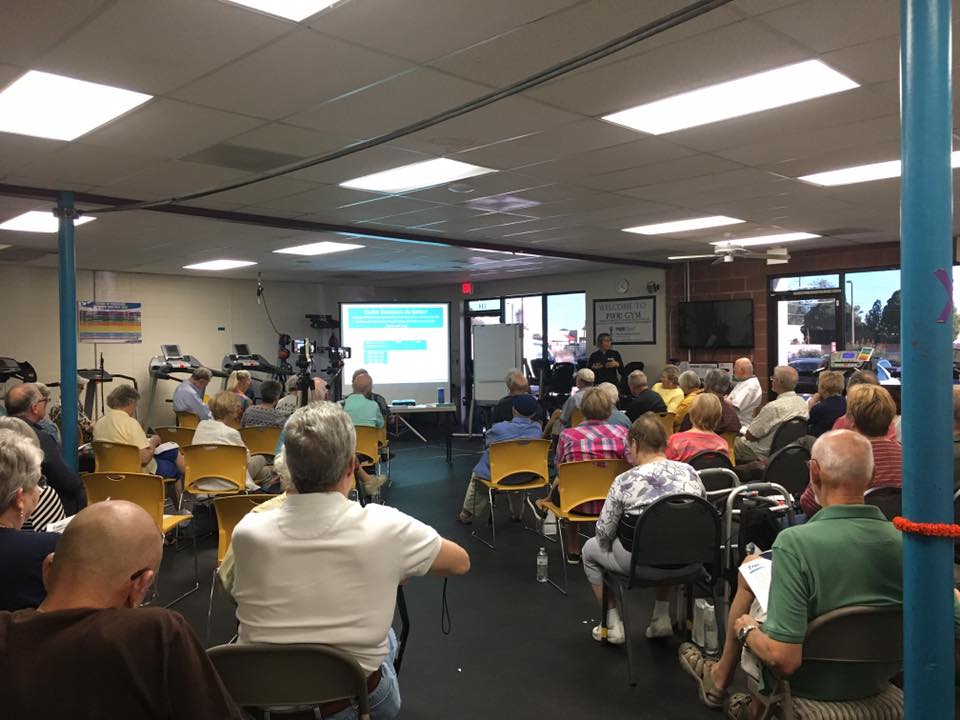 Documents & Handouts from Series
Please note that some of the wellness series do not have materials available to download. The handout availability depends on the topic and permissions of presenter. Thank you!
Hot Topics in Research, February 15th, 2018
Drs. Becky Farley and Nate McMullen

Speech, Swallowing and Cognition in Parkinson, September 21st, 2017
Janet Hawley, MS, CCC-SLP
Speech Pathologist, University of Arizona professor
Medical Marijuana and Followup, August and October, 2017
Kathy Inman and Adriana Tysenn
Followup by Dr. Becky Farley
Pelvic Floor Exercises July 2017
Presented by Diana Fasset of Success Physical Therapy LLC
The Importance of Getting a Good Nights Sleep, Thurs, March 16, 2017
Nancy Nelson
Suggested Reading: OPTIMAL HEALTH WITH PARKINSON'S DISEASE –MONIQUE L. GIROUX, MD, Therapies for Non-Motor Symptoms, Chapter: SLEEP PROBLEMS page 249
Suggested Assessments: SCOPA - Scale for Sleep
Nutrition and PD Symptoms, Tuesday, November 1st, 2016
Vanessa Leschak
Optimizing your Medications, Tuesday, October 4th
Becky Farley, PT, MS, PHD