Rock Steady Boxing Tucson at the PWR!Gym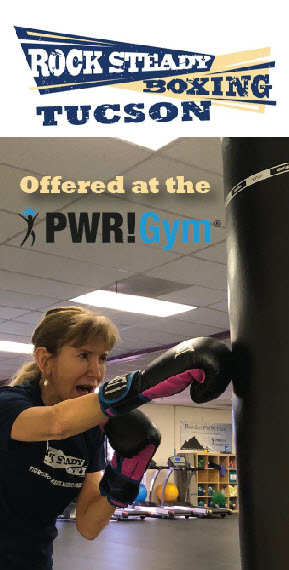 Rock Steady Boxing is a non-contact boxing program designed specifically for people with Parkinson's disease. Research suggests that exercise involving high intensity, large movements, such as boxing, can slow the progression of the disease and decrease the symptoms of Parkinson's.
Our classes include a variety of exercises adapted from boxing drills that work on agility, coordination, balance, high-velocity movement, core strength. In addition, there is an emphasis on functional activities, playing games and just having fun in general!
We welcome boxers of all abilities, and no previous boxing experience is necessary. If you are ready to fight your way out of the corner, contact us to see how Rock Steady Boxing Tucson can help you to feel and function better!
Class Times
Tuesday/Thursday
Levels 1 & 2 at 3:30-5:00 PM
Level 3 at 1:45-3:15 PM
To learn more,
contact Nancy Nelson
at the PWR! Gym
520-591-5346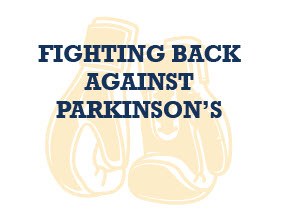 Head coach, Nancy Nelson, is a certified Rock Steady coach and a certified Personal Trainer with over 20 years experience working with people with Parkinson's disease. She has been involved in teaching classes for numerous Parkinson specific research projects. Prior to moving to Tucson to work for Parkinson Wellness Recovery (PWR!) she had her own Parkinson exercise business . She is certified in Dr. Becky Farley's PWR! program, Delay the Disease and the Brian Grant Foundation. Assistant coaches are Exercise Therapists, Carla Perez and Pandora Larsen and Dr. Marilyn Hart who bring a wealth of experience in health and fitness and Parkinson specific exercise.