Recharge at the PWR!Gym and More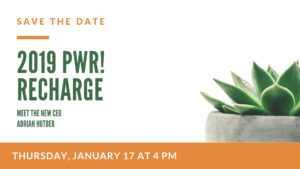 Happy New Year!
Dear Friends,
As we kick off what is sure to be another exciting year at PWR!, we also have a
MAJOR ANNOUNCEMENT…
On behalf of the Board of Directors and staff, we are thrilled to welcome
Dr. Adrian Hutber as the new CEO of Parkinson Wellness Recovery! 
Please join us on January 17th as we have our annual Recharge and Open House, where you'll hear about the latest PD-related news, learn what's in store for PWR! in 2019, and get to know Adrian, our staff, members of our Board, and other members of the PWR! community.
Don't miss this chance to Recharge and get 2019 off to a PWR!ful start!
Kimberly Peute
Chief Operations Officer

Becky Farley
Chief Research Officer
Every January, we RECHARGE!
Join us on January 17th from 4:00-5:30 pm
for the 2019 RECHARGE
Spots are being filled…
If you haven't signed up yet, we encourage you to start the application process for the PWR! Retreat soon. We are quickly filling the limited number of spots and don't want anyone to miss out who would like to attend. This unique, week-long event focuses on PD-specific Exercise, Education, Enrichment & Empowerment!
May 26 – June 1, 2019                  To begin the process: 
Start Here.
We are closed January 21st for the MLK holiday.
IMPORTANT INFORMATION 
FOR PHYSICAL THERAPY CLIENTS
1. Beginning January 1, 2019, the PWR!Gym will no longer be contracted for physical therapy services through for  Blue Cross Blue Shield Advantage. Please call the gym for more information about billing or payment options.
2. Insurance deductibles will reset with the new year for therapy services. Clients may receive bills until your deductible has been met.