PWR! Retreat 2019 Wrap-Up

PWR! Retreat Class of 2019 worked so hard! Whether it was early morning pole walking, daily exercise classes (PWR!Moves, Circuit training, or Nexus), giant Jenga or Bollywood dance, every Retreat attendee brought their A-game! We congratulate all of our Attendees on their incredible accomplishment and all they achieved in one short week! We sincerely hope that they will take what was learned at Retreat and continue to implement it in their daily regimen.
Our hats are off to all the amazing, caring, and devoted Care Partners that attended the 2019 PWR! Retreat. We are constantly amazed by the grace and kindness with which our Care Partners lead. We know how selflessly and tirelessly they work throughout the year to provide the best support and care for their loved ones. It is our hope that the PWR! Retreat provided an opportunity for them to recharge, make meaningful connections, and take a little time to address concerns and challenges. A special thank you to Richard Lange for sharing his wisdom, energy and generally awesome spirit as he co-led several of the Care Partner sessions with our very own, Kim Peute (COO).
Every year the PWR! team works diligently to prepare an agenda that will stimulate, motivate and provide the tools necessary to navigate the world of Parkinson's. We strive to bring you new content and exciting developments via our afternoon lecture series. In 2019, we kickstarted the program with an incredibly inspiring speech by American Ninja Warrior, Jimmy Choi, who shared his journey of young-onset PD and how he transformed his life through sheer dedication, will power, and a can-do spirit. Following Jimmy's presentation, we were delighted to also share with our attendees the expertise of the following speakers, all leaders in their individual arenas:
Our PWR! Retreat Speakers - 2019
Dr. Becky Farley
(The Science of Exercise & Exercise Essentials)
Dr. Maria Cristina Ospina
(Overview of Therapeutic Options)
Dr. Carrolee Barlow
(Gut Health: Why it is Important in PD)
Mary Spremulli, SLP
(Voice Boosts)
Dr. Nathaniel McMullen
(Therapeutic Strategies for Parkinson disease: What Would a Cure Look Like?)
Dr. Sally Fisher
(Benefits of a Whole-Food, Plant-Rich Diet)
We are especially proud of the caliber of speakers that we were able to secure for this year's Retreat and would like to extend our sincere appreciation to them for taking time from their busy schedules to join us and share their invaluable expertise and knowledge!
The Amazing PWR! Retreat Volunteers & Staff
Of course, we would be remiss if we didn't extend a huge thank you to all our incredible, talented and special Volunteers who make Retreat possible. This year PWR! was honored to be joined by the following amazing individuals who flew to Scottsdale from all corners of the United States to be a part our Retreat week. You may not be aware, but it should be noted that our Volunteers pay for their own airfare and all Retreat-related expenses, other than their accommodations and most meals. We are truly grateful for their generosity and cannot thank them enough for taking time to be a part of our event! Below is a list of all the Volunteers who coached, motivated, and cheered us through Retreat:
Mathes "Mickey" Burke (San Diego, CA)
Claire Cronenweth (Los Angeles, CA)
Alison Geymer (Fort Worth, TX)
Faith Gilbert (Moreland Hills, OH)
George Ma (Oahu, HI)
Claire McLean (Irvine, CA)
Sarah Palmer (Cincinnati, OH)
Kristi Richards (Round Rock, TX)
Jennifer Smart (Oriental, NC)
Rupali Vyas (Redwood City, CA)
Last, but certainly not least, a round of applause for the dedicated PWR! therapists and instructors who planned and led all the daily exercise sessions. Their expertise, energy, and enthusiasm is ultimately the key to how we accomplish our mission of helping those with Parkinson's to get and stay better longer. The PWR! exercise class gurus this year were:
Jennifer Bazan-Wigle
Emily Borchers
Nancy Nelson
Calli Paydo
Catherine Printz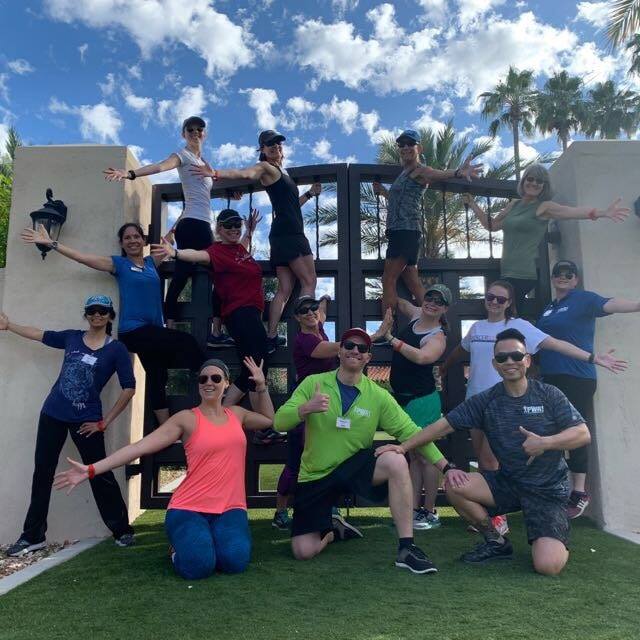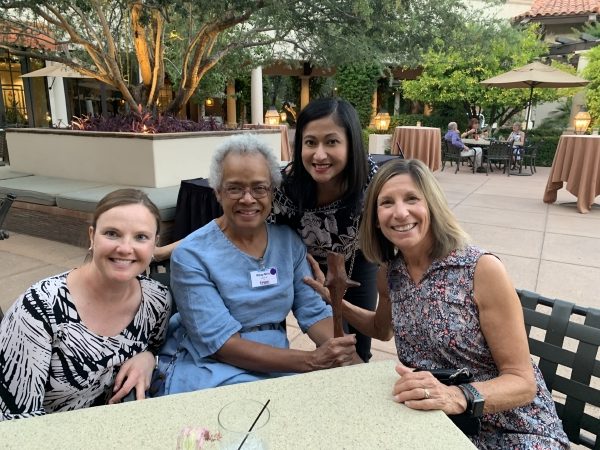 Thank you to Natasha Jabbar!
We are ever grateful for her warmth, attention to detail, and wonderful smile
that hid the behind-the-scenes action from the rest of the us. She did an incredible job!
Photo: Kim Peute, PWR! Attendee, Natasha Jabbar, Nancy Nelson
We hope to see you
next year at the
PWR! Retreat 2020.
Photos Credits: Claire McLean & Natasha Jabbar
Join Our Retreat Interest Form for 2020