April is Parkinson's Awareness Month
April is Parkinson's Awareness Month
We support the community impacted by Parkinson's every way we can. Working hands-on with people with Parkinson's, providing a strong support system for care partners, and sharing information and research through our educational Community Talks and Wellness Series around the country are a few of the ways we make a difference in the lives of people with PD. Continue reading to learn about the specific programs we offer and how they may benefit you or someone you love with PD.
We are proud to offer the following programs for the PD community:
PWR!Gym
When you walk through the doors of the PWR! Gym, you know that it is no ordinary gym. You instantly feel the sense of community and care from staff and other members. On any given morning, you will find people with PD exercising vigorously together in class, therapists working with individuals on specific goals, and a group of care partners talking and having coffee while their spouse is in their exercise class or receiving therapy. It's not just our 155 members who reap the benefits of what the PWR! Gym offers. People from all over the country come to receive the services we provide. Some people are snowbirds who join for the time they are here in Tucson; others come for a week at a time to work with one of our specialized therapists. Many are people who don't have access to Parkinson-specific exercise and therapy at home. We all know that Parkinson-specific exercise and therapy are key to living better with PD, but there is so much more! In addition to the wide range of group classes that are designed to meet the needs of each individuals level, we run a monthly Wellness series and provide opportunities for socialization including dine-out events, PWR! in the Park, and other special events. If you are person with Parkinson disease looking for resources, PD-specific exercise, education, support, and a caring community, then the PWR! Gym is the place to be!
PWR! Retreat
Since 2012, PWR! has hosted an annual Exercise, Education, Empowerment, and Enrichment Retreat for people with PD and their care partners in May. The week-long PWR! Retreat is held in Scottsdale, AZ, and includes: daily pole-walking, PD-specific exercise classes, presentations from renowned PD specialists, and enrichment activities including yoga, tai chi, qi gong, meditation, and game and dance nights. PWR! staff members, along with specialized exercise and therapy professionals, help participants address their specific fitness needs, develop tools for living better with PD, and share stories and resources that build community that lasts beyond the length of the Retreat. This life-changing event has offered hope and holistic wellness strategies for hundreds of people from around the globe and has inspired many to start local community programs of their own.
PWR!Moves Workshops
PWR! provides high-quality, evidence-informed, PD-specific continuing education for exercise and therapy professionals. During our PWR!Moves Therapist and Instructor workshops, professionals learn the fundamentals of PD-specific exercise and how to build therapy and exercise programming in their communities in order to provide access for people with PD to continuous care and holistic wellness programs. Since 2010, PWR! has trained approximately 4,000 of these professionals and demand for this service continues to grow. In 2019, we welcomed 6 new faculty members, increasing our capacity to meet this demand and train more professionals across the US and world.
How you can help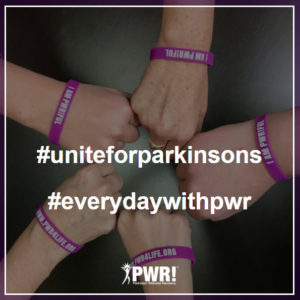 If you have benefited from our programs and would like to help sustain our work, please consider making a tax-deductible donation to PWR!.
Donations from people like YOU ensure that we can continue to provide a diverse array of services, including one-on-one physical therapy, group exercise classes, our free monthly Wellness Series, and our annual week-long Retreat. Every dollar counts!
If you would like to make a significant and meaningful impact in the life of someone living with Parkinson's, please consider making a monthly or annual donation to Parkinson Wellness Recovery. To donate, please click here.
You may also mail your check to 3849 E Broadway Blvd #163, Tucson, AZ 85716.
Thank you for your generous support!