Alpha Epsilon Delta Dodgeball Tournament Benefitting PWR!
Let us tell you about a wonderful community event benefitting PWR!

In our lead up to National Parkinson Month, the PWR! staff was delighted to participate in a dodgeball tournament hosted by Alpha Epsilon Delta at the University of Arizona. AED is the university's National Health Pre-Professional Honor Society dedicated to the encouragement and recognition of excellence in pre-professional health scholarship, including but not limited to medicine, dentistry, and veterinary science. In its mission to offer opportunities for both intellectual and professional development, AED provides a forum for students with common interests and extends a program of service to benefit the college and university community.
One such program hosted by AED is their annual dodgeball tournament with proceeds being redirected to local organizations whose missions align with that of the Honor Society. Parkinson Wellness Recovery was honored to be selected as the benefiting organization this year.
The much-anticipated event was held on Saturday, March 30th at the University of Arizona's Campus Recreation Center with six teams participating. We are thrilled to report that your very own PWR! staff and volunteers suited up for the tournament. The PWR! team members included physical therapist Evan Pierson, research assistant Aaron Elkins, intern Pedro "Dom" Dominguez, supporter Taylor Thornby, and volunteers Eli Thompson and Michael Sjoquist.
We are proud to announce that after four hours of friendly but fierce competition, your PWR! team brought home the trophy! Additionally, all proceeds from the event were kindly donated by AED to PWR! in furtherance of our mission to provide global access to research-based, Parkinson-specific therapy.
We would like to express our sincere appreciation to AED for organizing such a fun afternoon and for their generous support of PWR! and our mission.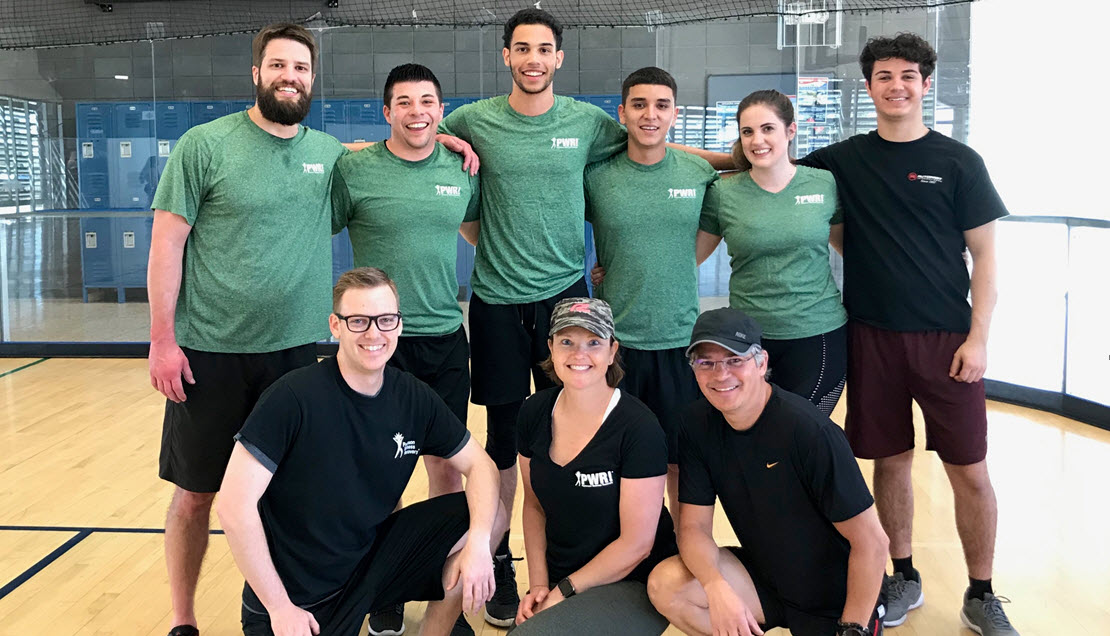 If you are interested in hosting your own event in support of PWR!, please contact Natasha Jabbar, our Director of Advancement at natasha@pwr4life.org or 520.591.5346