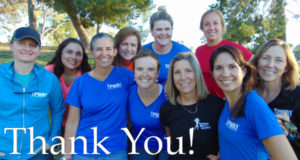 In this season of gratitude, the PWR!Gym staff would like to thank you, our members for being part of our community. Thank you for allowing us the opportunity to share our passion with you. We appreciate your business, commitment, talents and for spreading the word about the importance of exercise for people with Parkinson disease. We would not be here without you.
The PWR!Gym relies heavily on our volunteers. So far, this year, they have logged a total of 1,862 hours. They have provided us with support and have helped make our jobs easier. Cheryl Gehr has given 371 hours as a receptionist on Monday and Wednesday mornings. Other volunteers have helped create a safe and caring environment in our classes. They're there to lend a hand, give words of encouragement and serve as an extra sets of eyes for PWR!Instructors. Steve Coleman has been a volunteer for 5 years and has given 340 hours of his time this year. Many of our volunteers are students at the U of A and juggle school, homework, and outside activities to give of their time. We've also had great interns from the U of A School of Public Health – Nicole O'Hara and Aaron Elkins assisted with our Wellness Series, while Megan Bustios and Allysa Acuna worked on collecting data for research. Emily Borchers, PT has supervised several PT students from the University of Ohio (Dan) and Bellarmine University (Calli) who did great work with our members and stepped in wherever needed.
 We appreciate you all! Thank you!