Introducing the Virtual PWR! Experience!
Are you looking for an in-home, customized, multi-faceted exercise program to improve your Parkinson's Disease symptoms and your quality of life? We have the program for you!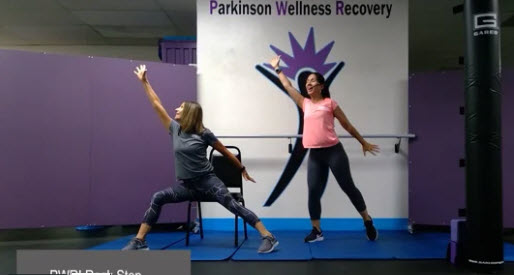 We at Parkinson Wellness Recovery are working diligently to bring the Virtual PWR!Gym – an experience modeled on our innovative facility in Tucson, AZ – directly to you, no matter where you are.
The PWR!Gym team, led by Founder and Chief Scientific Officer, Dr. Becky Farley, will guide you through a personalized PD health and wellness program, including exercise, education, social interaction, and feedback from our PWR!Gym team.
What we offer in the PWR! Virtual Experience
Guided Plans
Why play the "pick an exercise video" game when you can have guided plans curated with you in mind?
Parkinson's Focused
Our experts focus on PD all day, every day, and we have for over a decade.
Multi-Intensity Classes
Every Parkinson's journey should fit you and your needs. Our assessment will help you fit into the class that is the perfect intensity for you. For more on intensity and why, 
listen to Dr. Becky Farley here.
Live Virtual Classes via Zoom©
We want to see you! Keep motivated and moving with our live Zoom classes.
Educational Materials
You probably have questions—let us help you find the right answers.
Class Variety
From boxing to yoga, we've got something for everybody in our extensive library, live and pre-recorded!
PWR!ful Community
With each new member, our community grows—we'd love for you to join us!
We are open and ready for you. Visit our PWR! Virtual Experience Website. 
Want to know what's included? Here is an interview sneak peek between Catherine Printz of the PWR!Gym and Chris Durnan, Media Manage for PWR!

One-on-one wellness services are available now.
Discuss your Parkinson's journey and goals with one of our PWR!Gym Exercise Specialist now. Contact the PWR!Gym at 520-591-5346 to set up your online consultation.
Preview content we are creating and already offering to PWR!Gym members.
Don't forget to join the interest list and get moving wherever you are!
Join Nancy as she takes you through a combination of balance exercises while standing and on the floor, focusing specifically on transitions and balance.
In this equipment-free workout, Jenn challenges your functional strength and endurance.
In this video, Claire gives you a challenging standing workout by performing PWR!Moves exercises to promote improved posture and mobility.