Introducing the Virtual PWR!Gym!
Are you looking for an in-home, customized, multi-faceted exercise program to improve your Parkinson's Disease symptoms and your quality of life? We have the program for you!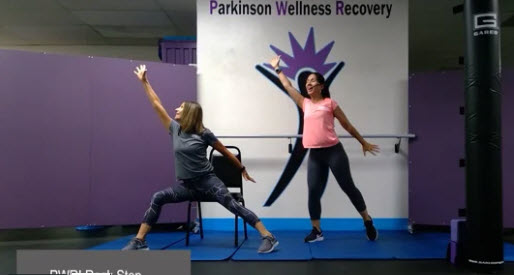 We at Parkinson Wellness Recovery are working diligently to bring the Virtual PWR!Gym – an experience modeled on our innovative facility in Tucson, AZ – directly to you, no matter where you are.
The PWR!Gym team, led by Founder and Chief Scientific Officer, Dr. Becky Farley, will guide you through a personalized PD health and wellness program, including exercise, education, social interaction, and feedback from our PWR!Gym team.
The Virtual PWR!Gym program will include:
A wide range of live and pre-recorded PWR!Moves exercise, including boxing, cardio, strength, yoga, and more, all tailored to provide the most benefit specifically to people with Parkinson's
Educational content recommendations curated by our expert team
A helpful library of supplementary material updated regularly
Opportunities for social interaction with people with PD and other members of the PD community
Customization and guidance from the PWR! team
Technical support to make using the virtual gym as frustration-free as possible
Don't miss the opportunity to join the Virtual PWR!Gym
Join our interest list to be notified when we begin enrollment.
Virtual PWR!Gym Interest List

One-on-one wellness services are available now.
Discuss your Parkinson's journey and goals with one of our PWR!Gym Therapists now. Contact the PWR!Gym at 520-591-5346 to set up your online consultation.
Preview content we are creating and already offering to PWR!Gym members.
Don't forget to join the interest list and get moving wherever you are!
Join Nancy as she takes you through a combination of balance exercises while standing and on the floor, focusing specifically on transitions and balance.
In this equipment-free workout, Jenn challenges your functional strength and endurance.
In this video, Claire gives you a challenging standing workout by performing PWR!Moves exercises to promote improved posture and mobility.