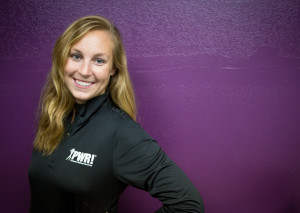 A message from our Physical Therapy Manager, Emily Borchers, PT, DPT
During this unprecedented time of COVID-19, physical therapists across the country are problem-solving innovative ways to see clients. For people with Parkinson disease, we know that individualized, real-time feedback is essential for our clients to maximize the benefit of physical therapy. At PWR!, we normally see our clients in person in the clinic for physical therapy sessions, but like others, we have pivoted to offering virtual options. We did this because we want to make sure that we maintain our connection to our current clients, but we also want our larger community to know that we are also to support you and help you maintain your exercise and wellness throughout COVID-19.
One-on-one Wellness Services
Wellness consultations performed via Zoom or Facetime allow real-time virtual face-to-face interaction with a PD-specialized PWR! physical therapist. With this service, you can exercise real-time with your therapist, receive immediate feedback on exercises, and even work through areas that might be difficult in your home including getting in and out of bed, getting out of low chairs, or moving around the kitchen or bathroom. Wellness consultations are a cash-pay service:
$50 for 30 minutes
$100 for 60 minutes
The Virtual PWR!Gym – Coming Soon!
With options for pre-recorded and live group programming, the Virtual PWR!Gym will allow people with PD to have access to PD-specialized exercise classes, no matter where you live! Our physical and exercise therapists guide participants through workouts that focus on specific skills known to become impaired with PD. Workouts include functional PWR!Moves, Circuits, High Intensity Intervals, Cardio training, Yoga,  Balance and Vertical Mobility, etc. in fun routines you can do from your home, your yard, or wherever you are. Get ready to do: dancing with Emily, boxing with Nancy, yoga with Carla, Circuits with Jenn, pilates with Natalie, PWR!Moves with Becky, and a variety of other workouts with specialized PWR! team members
We can't wait to make the virtual gym available to a larger audience and bring PD-specific exercise to you!
Please give us a call today to take advantage of these virtual options so that we can stay connected and help you stay active and healthy during this difficult time. We are here for you!
520-591-5346 or email: info@pwr4life.org