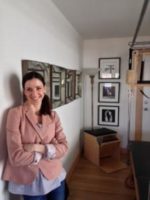 Fort Worth, TX, United States
5332 El Campo Avenue
Fort Worth
Texas
76107
US
Valerie Johnson began specializing in vestibular rehabilitation soon after earning a Doctorate in Physical Therapy from Texas State University. While working in a Outpatient Vestibular Clinic in Austin, Texas, Valerie attended Emory University to earn her Vestibular Rehabilitation Competency Certificate sponsored by the American Physical Therapy Association. Over the years, Valerie has obtained certifications and special training in Pilates, Concussion Management, Advanced Vestibular Rehab, and Vision Retaining. Additionally, Valerie is certified in PWR! (Parkinson Wellness Recovery) and LSVT BIG Therapy for individuals with Parkinson's Disease. Valerie is the team vestibular therapist for the Dallas Mavericks, providing comprehensive concussion evaluation and treatment for safe and efficient return to sport. She opened her own specialty vestibular clinic in 2013, which has allowed her to best serve those suffering from imbalance and dizziness.
Services
PWR!Moves Group Exercise classes, Physical Therapy, Wellness Services
Services Offered
Due to the highly variable presentation and wide range of PD symptoms, patients often wade through missed diagnoses and ineffective treatments before finally arriving at an explanation and a solution from a PWR! specialist. Valerie Johnson, PT, DPT started her own practice specializing in Parkinson's and balance disorders to serve as a resource and advocate for these individuals so that they may enjoy a better life.
Individuals with Parkinson's Disease often suffer from imbalance, falls, and many other unpleasant symptoms. The evidence continues to support the role of exercise in reversing the progression of this condition. Valerie's approach to working with PD is fueled by research and enthusiasm for those who want to do something positive about their condition.