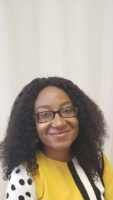 900 Bagby Street
Houston
Texas
77002
US
Hi there! My name is Uzo. In my experience as a physical therapist, I have seen the life-changing effects of diligent exercise on people with Parkinson's and stroke. Following research and testimonials from PARKINSON'S WARRIORS and STROKE SURVIVORS, I was exposed to the transformation that is possible with the proper combination of exercise, stress management, nutrition and sleep—my passion was awakened and that is how I transition from offering physical therapy to creating Dovaheights Physical Therapy & Wellness. By offering wellness exercises and coaching, we provide a holistic approach to living well, despite the realities of PD and stroke.
Services
PWR!Moves Group Exercise classes, Physical Therapy, Wellness Services
Services Offered
+Wellness exercises and coaching via mobile service or Telehealth (all you need is a stable internet connection, a laptop or phone).