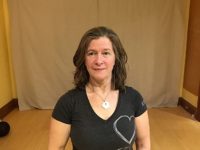 Cornwall, Ontario, Canada
I am a certified Level 4 Essentrics Instructor
Personal Trainer Certified with Canadian Fitness Professionals since 2014
Children Fitness Coach
Active Aging Certificate
Kayaking Moving Water Level 2 instructor(ORCKA)
Stand Up Paddle Board instructor Level 2 and instructor trainer(ORCKA)
I have been teaching kayaking since 2006.
Prior to becoming a personal trainer and Essentrics instructor, I was busy teaching and helping my kids train as members of the Junior National Kayak Freestyle Team, and Kayak Slalom Team. The oldest moved on to the senior team and secured a bronze medal at the 2015 World championships on the Ottawa river.
Services
PWR!Moves Group Exercise classes
Services Offered
I currently do not have any PWR! specific classes due to Covid and the closure of NAVFit.