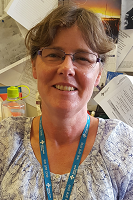 10409 98 St, Grande Prairie, AB T8V 2E8, Canada
10409 98 Street
Grande Prairie
Alberta
T8V 2E8
CA
Rosanna graduated in 1989 from University of Western Ontario. Since then, she has worked in Saskatoon, Nepal and Grande Prairie. The last 5 years she has focused on clients with a variety of neurological conditions including Parkinson's Disease.
Services
PWR!Moves Group Exercise classes, Physical Therapy
Services Offered
One on one sessions and currently running a group class along with a fellow PWR Therapist.