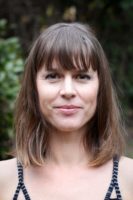 Berkeley, CA, United States
1904 University Avenue
Berkeley
California
94704
US
I am a certified Yoga Therapist and specialize in Yoga for Healthy Aging and Yoga and PWR!Moves for Parkinson's. I have over 1000 hours of Yoga and Yoga Therapy training and have been teaching for 6 years. My yoga therapy training prepared me to work with private clients and group classes addressing common chronic conditions. My goal is to integrate PWR!Moves into my yoga therapy practice so that I can offer the most benefits to clients affected by Parkinson's disease.
I teach public classes Yoga for Healthy Aging classes and PWR!Moves class and see clients privately in the Berkeley, Oakland, and Piedmont area of the San Francisco Bay.
Services
PWR!Moves Group Exercise classes
Services Offered
PWR!Moves public class on Tuesdays, 11.15am-12.45pm at Yoga Room, in Berkeley.
(hopefully more classes to follow soon)
Private Yoga/PWR!Moves sessions for people affected by Parkinson's disease.