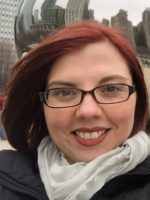 Baltimore, MD 21209, United States
6522-6572 Falls Road
Baltimore
Maryland
21209
US
Education:
Master of Physical Therapy degree from Oakland University in 2004, Orthopedic Manual Physical Therapy program at Oakland University completed in 2008, STOTT Pilates Mat and Reformer instructor since 2011, and Rock Steady Boxing Charm City's Head Coach since 2017.
I work at a fantastic physical therapist owned private practice in Baltimore, MD. Our clinic schedules each patient for hour long sessions that are one-on-one with the therapist. Mind Body Physical Therapy takes most health insurance, including Care First and Medicare. We have a full Pilates studio with Gratz equipment and a well equipped boxing gym on-site for use with our patients and for community fitness programs including: Pilates group mat classes, Fitness Boxing, and Rock Steady Boxing (which is a non-contact boxing class specifically for people with Parkinson's). PWR!Moves are part of every class at Rock Steady Boxing Charm City!
Services
Physical Therapy, Wellness Services
Services Offered
PT for people with PD, including treating orthopedic conditions, such as shoulder, hip, knee, ankle, foot or spine pain/dysfunction.
Post-surgical rehab following joint replacement, ligament or muscle repairs.
PT to address vestibular issues, difficulty with walking, and balance disorders.
Group fitness for community members with PD: Rock Steady Boxing Charm City classes are offered three days per week and always include PWR!Moves.