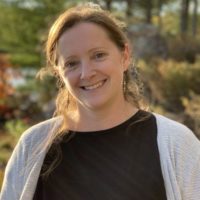 45 Highway 8
Hamilton
Ontario
L8P
CA
Orla Hares is passionate about physiotherapy and caring for others. Orla has more than 16 years of professional physiotherapy practice, including private clinics, acute hospital settings, movement disorder clinics, rehabilitation settings, geriatric rehabilitation centers, and in the community, in the UK, Ireland, and Canada.
Orla likes to think outside the box and enjoys pushing the boundaries while giving each individual client the confidence to achieve goals they might otherwise think impossible. Orla's patient and compassionate nature can help keep things calm even in chaotic and stressful environments.
She is an experienced interdisciplinary team member who regularly works with movement disorder specialists, neurologists, occupational therapists, dietitians, pharmacists, and kinesiologists. Orla also likes to involve family members and support staff in the treatment and goals of the individual.
Orla has extensive experience helping manage symptoms of Parkinson disease. Parkinson disease can affect everyone differently, therefore, clients are provided with an individualized plan to help keep them at their best.
Treatments are provided at home so there is no need to stress about attending a clinic. Issues are resolved and problem-solving happens at home where they matter the most. Quality of life can be improved on with ongoing therapy, therefore, Orla recommends regular review sessions regardless of the stage in your journey with Parkinson disease.
In her spare time, Orla loves being outdoors, whether it's having fun with her kids, going for a run, or hiking. She also enjoys relaxing in the back garden with friends and family.
Services
PWR!Moves Group Exercise classes, Physical Therapy
Services Offered
PWR!Moves Group Classes- small group classes for maximum gains.
PWR!Moves individual therapy sessions. 1:1 therapy sessions to get the maximum benefits and to stay as functional as possible.
Online PWR!Moves classes- be prepared to work hard but get the benefits by working at home.