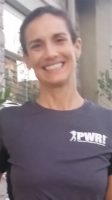 Rock Steady Boxing San Diego 319 East Valley Parkway, Escondido, CA, United States
319 East Valley Parkway
Escondido
California
92025
US
I was born and raised in Quebec, Canada and attended the University of Sherbrooke ,where I graduated with a Bachelor's degree in Education. I moved to San Francisco, California in 1997 and to San Diego in 2000.
In 2010, I  obtained 2 degrees from the International Sports Sciences Association: Certified Fitness Trainer and Specialist in Exercise Therapy. In 2014, I became the first Certified Rock Steady Boxing Coach in San Diego and, in order for me to provide the best class for my Fighters, I studied with the Boxing Fitness Institute and became a certified Boxing Fitness Trainer.
Since I became a PWR! certified Instructor, I have been busy working on blending both programs to offer to our Fighters an even stronger way to FIGHT BACK PD.
The PWR! program is extremely powerful and YES, changes lives!
Services
PWR!Moves Group Exercise classes, Wellness Services
Services Offered
PWR!MOVES group class integrated to our Rock Steady Boxing San Diego
Private PWR! Moves class.