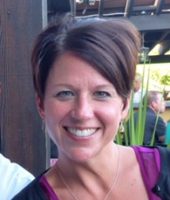 1435 Water Street
Kelowna
British Columbia
V1Y 1J4
CA
Mary became a PWR!Moves Instructor in 2016.  She received her Bachelor of Science in Nursing degree in 2006.  With her life-long interest in fitness, her professional background in healthcare, and her personal connection to Parkinson's Disease, becoming a PWR! Instructor was the perfect fit.
The advantage of exercise for Parkinson's Disease became evident to Mary as she watched her father's quality of life improve with exercise.  Diagnosed in 2003, Mary's father used daily exercise to optimize his function, live independently, and most importantly, play with his 8 grandchildren.
Mary offers 4 different levels of PWR!Moves Group classes for different levels of disease severity.  The classes are offered through the City of Kelowna Parks and Recreation Department.
Services
PWR!Moves Group Exercise classes
Services Offered
PWR!Moves Group Exercises Classes offered at 4 different levels. Groups classes meet 2 times per week.