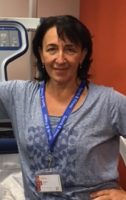 Chicago Loop, Chicago, IL, United States
224 South Michigan Avenue
Chicago
Illinois
60604
US
As a part or Exercise Physiologists Staff at the Fitness Center of Rehabilitation Institute of Chicago, now Shirley Ryan Ability Lab, I work daily with people with Parkinson's. I instruct different ability levels group exercise classes that are based on PWR!Moves. I work one-on-one in our Functional Fitness program with people affected by this disease. I implement state-of-the-art exercise machines, such as AlterG, to increase cardiovascular work capabilities and thus to improve neuro-muscular efficiency, cardio and muscular endurance and range of movement in joints. I developed and implemented a number of new classes and programs that target Parkinson's specific symptoms and are geared to improve mobility and help with muscular rigidity. Among such classes are Nordic Walk and Flex-ability stretch programs.
Services
PWR!Moves Group Exercise classes
Services Offered
I lead various group exercise classes of different levels of ability for people with Parkinson. I am also a Functional Fitness therapist that works individually with people of different levels of this disease advancement.