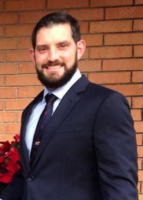 901 Calle Amanecer, Ste. 320, San Clemente, CA 92673
901 Calle Amanecer
San Clemente
California
92673
US
Dr. Devin Duval is a Doctor of Physical Therapy receiving his degree from Chapman University. He has clinical experience in working with people with Parkinson's or Parkinsonism. He has certifications in PWR! and LSVT BIG, performed aftercare classes for people specifically with Parkinson's involving dance, boxing, and PWR! routines, and has been a member of an interdisciplinary team for consult with neurologist for potential DBS candidates. Now currently located along the coast in the beautiful city of San Clemente at Ocean Physical Therapy.
Services
PWR!Moves Group Exercise classes, Physical Therapy, Wellness Services
Services Offered
Physical Therapy involving PWR! exercises and gait training
Individual Wellness Consultations and Assessments by appointment in San Clemente at Ocean PT.
Starting up Aftercare classes for dance, boxing, and group PWR! moves.