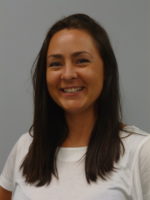 Fountain Valley, CA, United States
10035-10037 Slater Avenue
Fountain Valley
California
92708
US
Dr. Claire McLean is a Board Certified Neurologic Clinical Specialist. She graduated with a doctorate in physical therapy from the University of Southern California and has specialty training through the USC/Rancho Los Amigos Neurologic PT Residency program.
Claire worked as a neuro clinical specialist at Hoag Hospital, an NPF Care Center from 2010 to 2015. She worked in the outpatient clinic primarily with clients with PD and other movement disorders. She was also on the interdisciplinary team assessing & treating patients prior to and after receiving DBS surgery. She has research experience working as an intervention therapist on multiple studies investigating the effect of exercise in people with PD.
Claire has started a community wellness program for people with PD in Orange County, CA. The program includes group exercise classes, individual wellness and a monthly educational series.
Claire is also a member of the PWR! Faculty and assists with the PWR! Retreat.
Services
PWR!Moves Group Exercise classes, Physical Therapy, Wellness Services
Services Offered
I offer the following classes weekly in Fountain Valley, California:
Cardio Challenge Class: Monday, Wednesday and Friday 7:30-8:30.
PWR!Moves Classes Level 1: Monday 9:00-10:00am
PWR!Moves Classes Level 2: Tuesday 8:30-9:45am & 10:00-11:15am
PWR!Moves in the Park Class: Wednesday 10:30-11:45am
Boxing Small Group Class: Friday 9:00-10:00am & 10:00-11:00am.
Individual Wellness Consultations and Assessments by appointment in Fountain Valley Location.
In Long Beach I offer a Parkinsons Specific Exercise Class at California State University Long Beach on Monday, Wednesday and Thursday afternoons.
For information on these services please email or call!