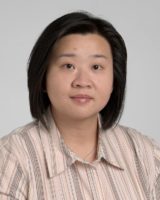 Cleveland, OH, United States
Cleveland Clinic Foundation, Mellen Center U10, 9500 Euclid Avenue
Cleveland
Ohio
44195
US
I work as a physical therapy Clinical Specialist in the movement disorder clinic at the Cleveland Clinic Foundation.  I am a graduate of the Cleveland State University Physical Therapy program .  In 2011, I became a board certified clinical specialist in Neurologic Physical Therapy by the American Board of Physical Therapy Specialties. I received my advance degree in Doctor of Physical Therapy in 2017 from the Neuro Recovery Training Institute.  I attended the first Physiotherapy summer school for people with Parkinson's disease sponsored by the Movement Disorder Society in Nijmegen, Netherlands.  I have completed research on the effect of dancing and drumming on people with Parkinson's disease and Parkinson specific outcome measures.  I leads a community-based Parkinson specific exercise class and is a guest lecturer for the physical therapy program at Cleveland State University.   I have a strong interest in early physical therapy intervention for people with Parkinson's disease.
Services
PWR!Moves Group Exercise classes, Physical Therapy, Wellness Services
Services Offered
Multidisciplinary movement disorder therapy clinic that focus on early intervention for people with Parkinson's disease. The Cleveland Clinic Foundation is also a deep brain stimulator center. We offer community base Parkinson specific exercise classes.