MARCH WELLNESS SERIES
THE IMPORTANCE OF GETTING

A GOOD NIGHT'S SLEEP
March 16, 2017 4:00-5:30PM
Good quality sleep is important for people with Parkinson Disease. It helps your body and mind recover. Developing good sleep patterns can help you manage your symptoms and live better with Parkinson's. Come join us to watch a TEDTalk from Dr. Jeffrey Iliff, Ph.D., a neuroscientist from Oregon Health & Sciences University, discuss the importance of sleep for the brain. After the video, we will discuss common sleep problems with Parkinson Disease and strategies to improve your sleep!
To reserve your spot for March contact Nancy or Jordan in the PWR!Gym office or by emailing
info@pwr4life.org
Once a month, PWR!Gym will offer presentations and discussions on topics pertaining to living well with Parkinson's disease (ie. Nutrition, sleep, stress management). 
February 16, 2017 4:00-5:30 PM
Neurogenic Orthostatic Hypotension, nOH
Join us to hear Sarah Jones, MPA MS, Executive Director, Parkinson & Movement Disorder Alliance discuss hypotension in PD and answer questions you might have.
Do you think you know much about nOH? You may not know how it relates to your Parkinson's and mistreatment or lack of treatment can be dangerous. Common in mid- and late-stage PD, low blood pressure (orthostatic hypotension or OH) can cause loss of balance, fainting or falling. It can cause headaches and difficulty thinking-or no symptoms at all! Both PD and the medications used to treat it can cause this condition. It's important that we understand what it is and how to keep it from negatively affecting our quality of life.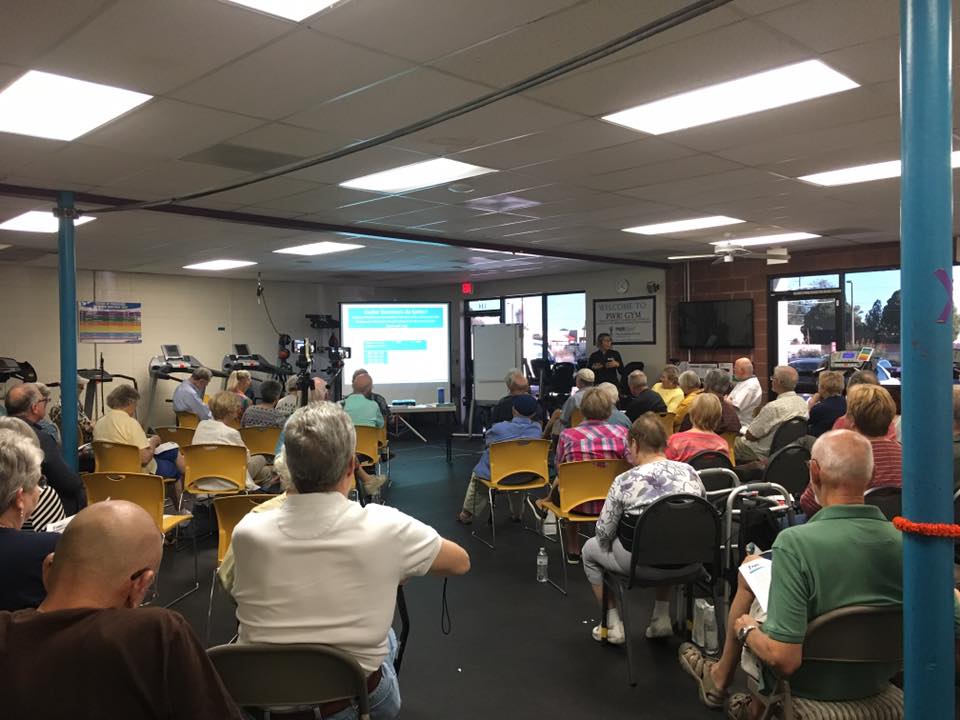 Documents & Handouts from Series
Please note that some of the wellness series do not have materials available to download. The handout availability depends on the topic and discussion. Thank you!
Optimizing your Medications, Tuesday, October 4th
Becky Farley, PT, MS, PHD
Nutrition and PD Symptoms, Tuesday, November 1st, 2016
Vanessa Leschak