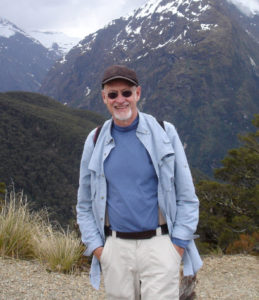 Clark Norton
Award-winning travel writer Clark Norton, who joined the PWR!Gym in August 2016, has just published his 17th guidebook, 100 Things to Do in Tucson Before You Die (Reedy Press, 2017).
Clark's previous guidebooks have covered traveling in California and San Francisco with kids, cruising Alaska, adventuring in the Dominican Republic, and driving America's most scenic byways. But he says the Tucson book, produced over the fall of 2016 and the winter of 2017, is his favorite.
"It was an intense four-five months of research and writing," Clark says, "and the toughest part, believe it or not, was whittling the list down to 100 Things. I could easily have done 150, but this book is part of a series and the publisher made it clear: 100 Things."
Clark, who has traveled to 120 countries and territories, and to all 50 states and seven continents, has also written thousands of travel articles for major magazines, newspapers, and websites, and blogs about baby boomer travel at clarknorton.com.
After spending most of his adult life in San Francisco and New York, Clark and his wife, Catharine, have settled in Tucson for good, near their son, Grael, daughter in law Nona, and young grandson, Conrad, to whom the new book is dedicated. "Conrad is the first native Tucsonan in our family," Clark says, "The trick is to keep him from toddling too close to the cacti."
Clark is the recipient of two gold awards from the Pacific Asia Travel Association, including best magazine story of the year in 1995, and two gold awards from the North American Travel Journalists Association (NATJA) for best magazine series in 2013 and 2014. He is a member of both NATJA and the Society of American Travel Writers.
Clark credits his time at the PWR gym with helping to supply the energy to write and promote his new book — and "to work off some steam," he says. "There's nothing like hitting a punching bag — which you can pretend is an editor breathing down your neck."
100 Things to Do in Tucson Before You Die is available at local bookstores (Antigone, Barnes & Noble) and other outlets around town, as well as amazon.com or from Clark's website, clarknorton.com.