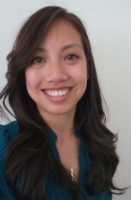 195-199 East Santa Clara Street
San Jose
California
95113
US
Patrice Jang is a physical therapist at Vortex Physical Therapy and Balance in San Jose, CA – a clinic that specializes in helping individuals with dizziness and postural instability.  Prior to Vortex, Patrice worked in San Francisco at the Institute on Aging, focusing on fall prevention and safely keeping seniors in their homes for as long as possible. She has also been employed at Rancho Los Amigos National Rehabilitation Center, rehabilitating those with complex neurological issues including traumatic brain injury and stroke.
She received her Doctorate of Physical Therapy from UC San Francisco and San Francisco State University and attended undergrad at UC Irvine.  Patrice has a passion for neurologic rehabilitation and completed the Neurologic Physical Therapy Professional Education Consortium in 2015.
Patrice enjoys hiking, playing soccer, and exploring the local food scene.  She especially loves food trucks and small batch ice cream!
Services
Physical Therapy, Wellness Services
Services Offered
Individual physical therapy evaluation and treatment sessions