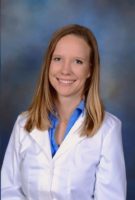 3035 Capital Avenue Southwest, Battle Creek, MI, United States
3035-3119 Capital Avenue Southwest
Battle Creek
Michigan
49015
US
Mia Kaartinen is a licensed physical therapist at Borgess Health. She received her bachelor's in Kinesiology at Michigan State University in 2013 and went on to receive her Doctorate in Physical Therapy at University of Michigan in 2016. Mia is currently a member of the American Physical Therapy Association, and is a member of the Neurology section. Mia treats patients with both orthopedic and neurological conditions, and has a special interest in treating patients with impairments due to a neurological condition.
Mia enjoys reading, rollerblading, and exploring everything Michigan has to offer.
Services
PWR!Moves Group Exercise classes, Physical Therapy
Services Offered
We offer physical therapy services for patients affected by Parkinson's and parkinsonism. We also offer Parkinson's wellness group classes for patients with Parkinson's that would like to continue exercising in a group setting following a bout of physical therapy, while targeting impairments that affect their everyday lives due to their diagnosis.