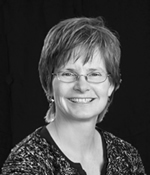 San Luis Obispo County, CA, United States; Santa Barbara County, CA
700-750 Pismo Street
San Luis Obispo
California
93401
US
Maria Allen is a physical therapist working with people with neurological diagnosis since 1983.  She became PWR! Therapist certified in July 2013 then PWR! Instructor certified in April 2014.  Currently she is the Parkinson's Wellness Program Coordinator for Central Coast Home Health in San Luis Obispo and Santa Barbara counties of California.  She overseas a multidisciplinary Parkinson's specific program for home bound clients as well as providing education, training and mentoring for over 20 PWR!Moves Therapists within CCHH's Parkinson's program staff.  She works closely with skilled nurses, speech therapists, dieticians, social workers, and physicians to bring Parkinson's specific care to the homebound population. She provides a biweekly community-based PWR!Moves exercise class and works closely with local Parkinson's Support Groups.  Twice she has volunteered at the PWR! Retreat.  Maria has also practiced in outpatient, acute and sub-acute rehab settings.
Services
PWR!Moves Group Exercise classes, Physical Therapy, Wellness Services
Services Offered
PWR!Moves Group Exercise Classes, Physical Therapy in home health and outpatient setting.