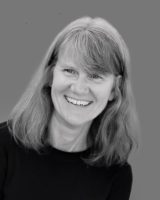 Oriental, NC, United States
700-798 Broad Street
Oriental
North Carolina
28571
US
I am a physical therapist who has a special interest in people with Parkinson's Disease.
Several years ago I started a tandem bike program, pairing PWP with local cyclists on stationary tandems at a local gym. The PWP sat on the back seats and were "forced" to keep the cadence up to a rate that research had found beneficial for this population. This program has grown and been featured on public radio (http://publicradioeast.org/post/down-east-journal-050517).
I am both LSVT Big and PWR! certified and am a Rock Steady Boxing coach, teaching two classes a week.
In the fall of 2016 I attended the World Parkinson's Congress and got featured in their publication, Faces of Parkinsons (http:parkinsonslife.eu/faces-of-parkinsons-to-restore-a-persons-dignity-thats-my-calling/)
Services
Physical Therapy, Wellness Services
Services Offered
I utilize PWR!Moves in both my one-on-one therapy sessions and have incorporated many of the PWR! progressions and activities into the exercise classes that I teach.