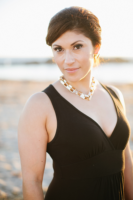 Long Beach, CA, United States
2801 Atlantic Ave
Long Beach
California
90806
US
Betsaida Cruz-Coble PT, DPT, NCS received her BA in Kinesiology from San Jose State University in 2002, Doctorate of Physical Therapy (DPT) from the University of Southern California in 2007, and became a Neurological Clinical Specialist in 2014. She currently practices in the Outpatient Neurologic Rehabilitation Clinic of Long Beach Memorial Medical Center where she developed and directs the Parkinson's Rehabilitation and Wellness Program. Dr. Cruz-Coble is LSVT BIG and PWR! certified. 80-100% of the patients she works with have PD or atypical parkinsonism, and she is committed to being up-to-date with Parkinson's-related education. She is an adjunct faculty member for the DPT program of Mt St Mary's University in which she teaches evaluation and treatment of people living well with PD. While her practice includes an array of neurological conditions, her greatest passion is in working with patients with PD to live safe, independent, and fulfilling lives.
Services
PWR!Moves Group Exercise classes, Physical Therapy, Occupational Therapy, Wellness Services
Services Offered
Our practice offers interdisciplinary care including Physical, Speech/Swallowing/Cognitive, Occupational, Balance and Vestibular, Orthopedic therapies. We have state of the art equipment and multiple gyms, a fully functioning practice apartment, functional electrical stimulation equipment, balance training systems, body-weight supported systems overground, and an indoor, heated, olympic size pool to ensure that everyone, at any level of ability, has the opportunity to improve their function and mobility. We work closely with internationally recognized and respected Movement Disorder Specialists and Neurologists to ensure optimal, collaborative care for our patients. Our clinicians are specialists and experts who are excited to work with you to achieve your goals and push you beyond your limits!