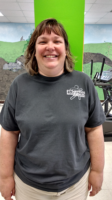 Services, Cliff Ln, Lymm WA13 0SP, UK
Cliff Lane
Lymm
hio
45875
US
I am a Certified Athletic Trainer and a PTA. I work in the outpatient setting and also provide Home Care services. I have an interest in neuromuscular conditions, Parkinson's Disease in particular.
Services
Physical Therapy, Occupational Therapy, Wellness Services
Services Offered
I currently offer PWR!Moves through formalized Physical Therapy in the outpatient and home care setting. I am in the process of implementing group exercise classes at my facility also.