PWR! in the Community
November 21, 2014
Dr. Farley spoke at the 10th annual ParkinsonNet Symposium in Utrecht, Netherlands.
September 25-27, 2014
Dr. Farley spoke at the 2nd Annual MDS-Allied Health Professional Summer School in Torres Vedras (Lisbon), Portugal, September 25-27, 2014 with PWR! Faculty Dr. Claire McLean on Rehabilitation Management: Physical Capacity and Inactivity.
September 2014


Tucson Lifestyle Magazine
» Read the article
January 4, 2014


The SPOTLIGHT Program

Supporting Senior Healthcare Professionals
pwr! presents at The SPOTLIGHT Program in Tucson, AZ
» SPOTLIGHT newsletter
November 5, 2013


Cape Gazette

pwr!Workshop Sussex County, Delaware
» Local Parkinson's group hosts Train-the-Trainer therapy and exercise classes
October 1-4, 2013


World Parkinson Congress (WPC) 2013

pwr! presented at the World Parkinson Congress in Montreal at Booth 1307.
September 15, 2013




pwr!

Video Competition

"Rockin' with Parkinson's"
Congratulations to Beth Millage, DPT, Erin Vesey, DPT, and their volunteer, Jerri Smith for winning the first annual pwr! Video Competition! The prize for this contest was a $200 donation made to the organization of their choice – the Minnesota APDA. Please be sure to watch their creative use of pwr! Rock movements in this winning submission!


pwr! would like to thank Journal Broadcast Group for making us the Community Partner for July 2013! This generous gift of a media campaign worth more than $100,000 will help us reach thousands of people with Parkinson disease in Pima County.

April 14, 2013


Arizona Daily Star

pwr!Hike follow up story, featuring Tim Bowden.
» Stretching his limits helps, climber with Parkinson's
April 9, 2013


Denver Post

» Baby Boomers driving force behind fitness changes
March, 2013


Morning Blend

» Tim and Diane Bowden talk about pwr!Hike 2013
March 31, 2013


Arizona Daily Star

» The tougher, the better for Tucson hiker who's battling Parkinson's for Tucson hiker with Parkinson's
March 14, 2013


The Vancouver Sun

The story of a pwr!Retreat past participant
» Empowered Health: Fighting the effects of Parkinson's with exercise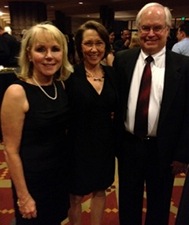 December 1, 2012


Vantage West Credit Union Award

On Saturday, December 1, 2012, pwr! was awarded the Vantage West Credit Union Award. We were nominated by James "Rocky" and Amy Chandler for this award, which was presented at the Vantage West
Credit Union Employee Masquerade Ball at the Ventana Canyon Ballroom. Pictured (from left to right):
Amy Chandler, Dr. Becky G. Farley, and James "Rocky" Chandler
November 17, 2012


Midwest Young Onset Parkinson's Conference

Dr. Becky Farley presented:
» Exercise as Medicine for Parkinson Disease: Exercise is a tool to optimize brain health, repair, and FUNction
November 13, 2012


The Denver Post

» Teacher Gary Sobol knows firsthand that exercise helps people with Parkinson's Disease
October 30, 2012


National Physical Therapy Magazine

Featuring Tim and Diane Bowden
» Fly Fishing Good Therapy for Parkinson's Patients
March 26, 2012


Morning Blend
April, 2012


Morning Blend

UACC member studying link between Parkinson's and melanoma
» Parkinson disease/melanoma research study led by Dr. Tim Bowden/a>
April 18, 2012


FOX 11, Tucson News

Drs. Farley and Bowden talk about HOW pwr!gym® helped Dr. Bowden climb Mt. Lemmon.
» View pwr!gym® feature
April 15, 2012


Arizona Daily Star

» Gym-dandy help for Parkinson's: People with Disease Now Have an Exclusive Place to Exercise
February 7, 2012


National Physical Therapy Magazine