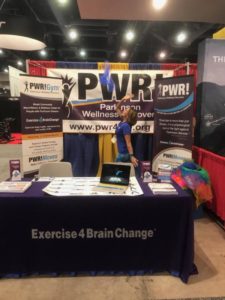 Dr. Becky Farley and Vaness Leschak spent a weekend in Las Vegas promoting the PWR! Workshop program to widen the community of PWR! and support more People with Parkinson's.
Thank you to the many Professionals that stopped by the booth and said Hello! The PWR! Community grows with every connection.
Our goals are to grow a large PWR! Nation. Help us by sharing PWR! with those around you.
Upcoming Workshops for Professionals
August 12-13 in Ludlow, MA
August 26-27 in Wilkes-Barre, PA